Bulk Business Whatsapp Sender Latest Version
WhatsApp Marketing Software 2022 is all your business needs. We provide unlimited PC licenses, constant updates, and much more. It works on the Windows Desktop.
WhatsApp marketing software is a platform that allows you to send messages to your customers and convert them into paid clients. This Lead Management is India's best Bulk Business Whatsapp Sender, allowing you to reach millions of customers with the click of a button.Our platform is highly user-friendly and you don't even need to be technical to use our 
WhatsApp bulk messaging software tool. WhatsApp blaster software allows you to send messages with images, documents, and even PDFs.
This Bulk Business Whatsapp Sender management tool helps you attract customers like a magnet, earn money, and make your marketing easier and better. It is compatible with all Windows operating systems, including Windows 7.The cost of bulk WhatsApp marketing software begins at Rs. 1200/-.Our customers bought this software and got their money back within the first month itself, and we couldn't be happier. If you want to try our bulk WhatsApp marketing software before committing, then you can download it for free today and try it. And this is why WhatsApp business software is your best friend and marketing option.
Most Powerful Bulk WhatsApp Sender Software
Get the Power of WhatsApp Sender Marketing in a Single Software Package! Our Software is Used by 200+ Businesses. The Latest Version of Our Software was Released on April 1, 2022.
If a thousand messages are sent on WhatsApp and a thousand mails are sent on Gmail, then you will be surprised to know that only 21 percent of Gmail users will open the mail, but on WhatsApp, 99% of the people will see that message and 40 percent of the people will respond to that message. The most powerful tool use is the WhatsApp marketing tool, with the help of which you can take your business to different heights, as shown in the chart also showing how to use Gmail to respond to WhatsApp.
How WhatsApp Marketing Tool Works
Import Mobile Number:- 

Import numbers from Excel or any other file. You can also copy and paste target numbers.
In order to import numbers into the WhatsApp bulk marketing software, or in other words, if we say that if we add the numbers to which we want to send messages in this software, then the steps are very simple. First, we will click on the file menu. After clicking on the menu, we have to click on "Import Mobile Number." After clicking on Import Mobile, four options will appear in front of us. The second option is manual. If we want to send a message to any number, we will click on the manual option, type in the mobile number from which we have to send the message, and keep in mind that if you are sending a message to any number in India, then you will have to put the code +91 before the number, and when your mobile number is complete, you will have to write another mobile number by putting a comma. In this way, you can enter thousands of mobile numbers in it.
Create Message:- 

In this field, you type your message which you want to send to thousands of people through WhatsApp bulk software.
Send Message:-

After clicking on the send button, you can do your other work. The WhatsApp bulk software will automatically start sending messages to your specified mobile number and, at last, it will also give you a report as to who received the message and who did not receive the message. So, with this, you can analyze the report.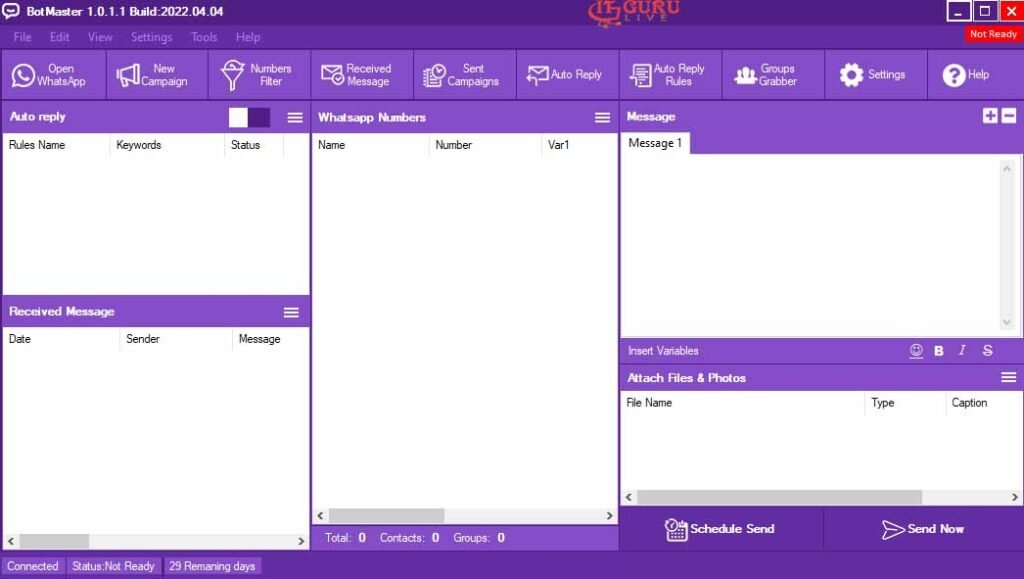 Business WhatsApp sender
1 Used Licence Cost
Features
Quick purchase
Purchase के लिए सम्पर्क करे Call करे 8949947326 या Whatsapp करे